Author: Luke Cheng
One of my absolute favorite cosplayers to shoot with is Skylr - you can finder her on Instagram at @skynerd_cosplay. We have shot many times together and she always kills it with her different cosplay ideas. Today Skylr went for Daenerys Targaryen, the extremely popular character from HBO's Game of Thrones series. Daenerys has had many costume changes since the first season of Game of Thrones. She's gone from a young girl with a simple dress to a tribal queen of a proud wilderness people to a ruler who wears opulent dresses. Skylr chose to go with a cosplay representing Daenrys' earlier days as a ruler. Skylr's looked amazing in her cosplay and it was my job to capture her as best as I could.
Davis, Ca was the location of this photoshoot. If you're looking for beautiful nature backgrounds to shoot, Davis provides it in spades. The city has a greenbelt that is perfect for anything that needs a natural look. We started at a location that had a really nice large arrangement of pillars. Since Game of Thrones is set during a time period where this type of architecture was common, I thought it would be an ideal spot to begin the shoot. The structure we shot at was in located in the middle of some large apartment complexes. The challenge here was to get Skyler and some background in the frame without including cars and buildings that would distract. Overall I thought we were able to get some nice pics at this first location.
We then moved on to the actual greenbelt area where there was a bike path surrounded by wooden fences, trees, and yellow field grass. It was an excellent time of the day to shoot as it had cooled down a bit from being pretty hot earlier in the day. It was also the golden hour in which the sun was perfect for getting great natural lighting. I ended up taking photos both with natural light and with a speedlight in a softbox. Throughout it all, Skylr modeled her cosplay really well as she went through a variety of different poses and looks. She's a total natural when it comes to poses! I really didn't have to give much direction at all, which made the photoshoot flow smoothly.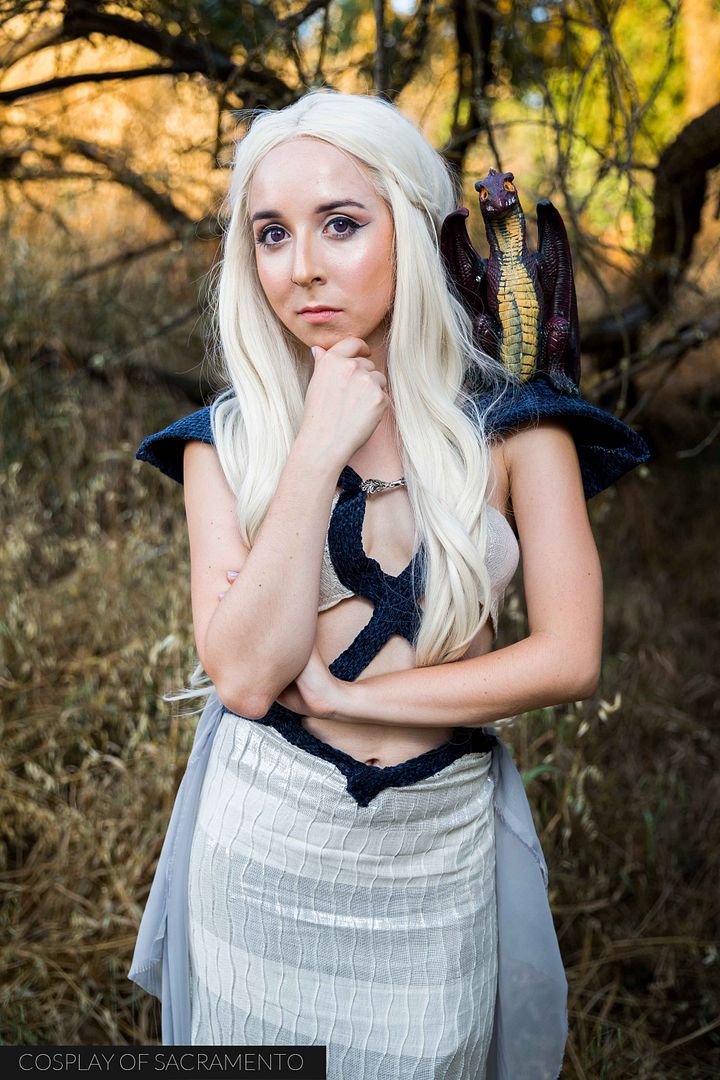 Skylr also brought in a little Drogon to take photos with. Drogon is one of Daenerys' three dragons that she has on the show. He's actually the one that has the biggest temper and doesn't seem to do exactly as Daenerys wants. But he's also seemingly the most powerful and loyal as well. Skylr says that this little Drogon isn't 100% complete in terms of how she wanted it, but the little guy photographed really well. Having a accessory like Drogon in a shoot is great in that it adds much more authenticity to the cosplay. If you didn't know it was Daenerys before, Drogon would totally give it away. I'm excited to see what Skylr does to finish little Drogon.
For this shoot I used my trusty Canon 5d mark iii with either the EF 24-70 2.8 mark ii or EF 70-200 2.8 mark ii. Both lenses worked well, but the 24-70 did have a few issues focus hunting when I was trying to shoot Skylr when she was extremely back lit like in this shot above. I would say about half the shots I took were with the ambient light, but for the others I used a Canon 600EX-RT speedlight in a Westcott Rapidbox softbox. Corpus Photography came alongside me during this shoot to get some behind the scenes video coverage. I'm excited to see what he got!