Author: Luke Cheng
SacAnime Gives Back took place on Sunday, May 15th 2016 at the McClellan Air Force Base Conference Center in Sacramento. This was not the typically huge SacAnime production that happens twice a year. This was, rather, a smaller mini-con with the focus on raising money for a charitable cause - in this case WEAVE, a charity organization that provides services for survivors of domestic violence or sexual assault in Sacramento County. A portion of every admission ticket was donated to WEAVE as well as 100% of the proceeds from an auction held during the event.
Convention goers who came out to SacAnime Gives Back found a relaxed atmosphere to hang out and enjoy. This con wasn't filled to the gills with tables and booths so the main hall was much easier to navigate and walk through. Though there were less exhibitors, there was still plenty to see, to do, and to buy. Besides the merchandise, SacAnime Gives Back had some special celebrity guests. Ali Hillis, Melody Perkins, and Cherami Leigh were all in attendance. These guests had some serious fans as attendees waited in long lines to meet them. Check out my video coverage of SacAnime Gives Back to get a glimpse of these lines!
One of the best things about attending cons like SacAnime Gives Back are the people. Going with friends is awesome, and so is meeting new friends. It is always great to connect with people that have similar interests and just hang out. No matter how big or small a con is, there is always the opportunity to build friendships. I personally have met so many amazing people since I've gone to cons like this one. These events build community, and this particular community is one that is accepting and open to those who want a friendly and accepting environment.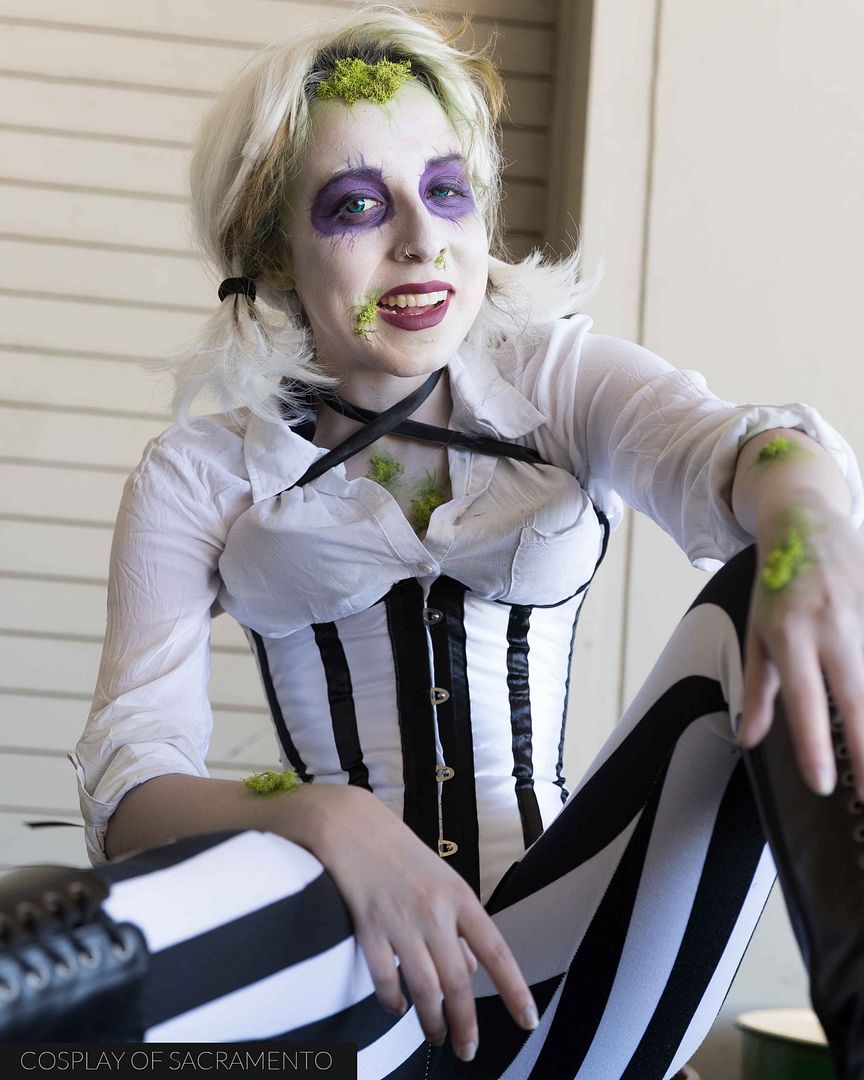 If you're looking to get photos of your cosplay, the con is the place to be. And if you're a photographer, the con is the perfect place to capture some amazing cosplay photography. As a photographer myself, it's the opportunity to photograph cosplayers that gets me coming back to cons time and time again. One of my favorite cosplayers to shoot with is Skynerd (shown above in her Beetlejuice crossplay). She always brings it in terms of creativity. I got to do an extended shoot with her and another favorite of mine, Supakawaiineko. Check out those pics in my gallery of SacAnime Gives Back on the main
Cosplay of Sacramento
site.
For many cosplayers the main event of a con is the costume contest. This is where the cosplayers get to show their cosplay front and center on stage in front of an audience. I'm sure this makes many people nervous, but the crowd always does a great job of encouraging every cosplayer that comes up and participates. The photo above shows a funny moment as Deadpool trolled the emcee before the cosplayers took the stage.
All the cosplayers today totally killed it. My personal favorite was this young Superman flying around the stage. He embodied Superman so well! I wasn't the only one who loved this young guy. I'm pretty sure half the audience swooned over his performance. The winners of the costume contest got some great prizes. Thank you and congrats to every cosplayer who came up on stage during the costume contest. You all did an amazing job!