Author: Luke Cheng
This weekend a small group of us attended the Gold Coast Adventure Faire in Elverta, Ca to promote the upcoming Sacramento Wizard World. Many of us did these same types of promotions last year as well. The main purpose of going out there was to pass out flyers and get the news out that Wizard World is almost upon us. It's always great fun to hang out, meet new people, and let people know about Wizard World. Yes, what we were doing is considered work... but thankfully its something that we enjoy spending time doing.
Here's the main crew from Saturday's promotion of Wizard World. We had cosplayers dressed as Nightwing, Black Widow, Joker, and Star Lord. All of these characters are very popular right now and instantly recognizable by most. It was fun to see the cosplayers interact with the folks that came up to take photos and also to see them get on Good Day Sacramento, a local morning television show. What a great way to instantly get more promotional reach!
Steve, a local cosplayer that is the spitting image of Captain Jack Sparrow, also joined in on the promotional fun. He would primarily be part of the Sunday crew, but did spent time with us on Saturday as well. In this photo he is showing us what the Gold Coast Adventure Faire is all about. This event was a renaissance faire featuring all sorts of armored folks, pirates, and even mermaids! Every so often we'd hear a canon go off or people parading around with a prison they had captured. It really was an amazing time with tons to see and experience around us.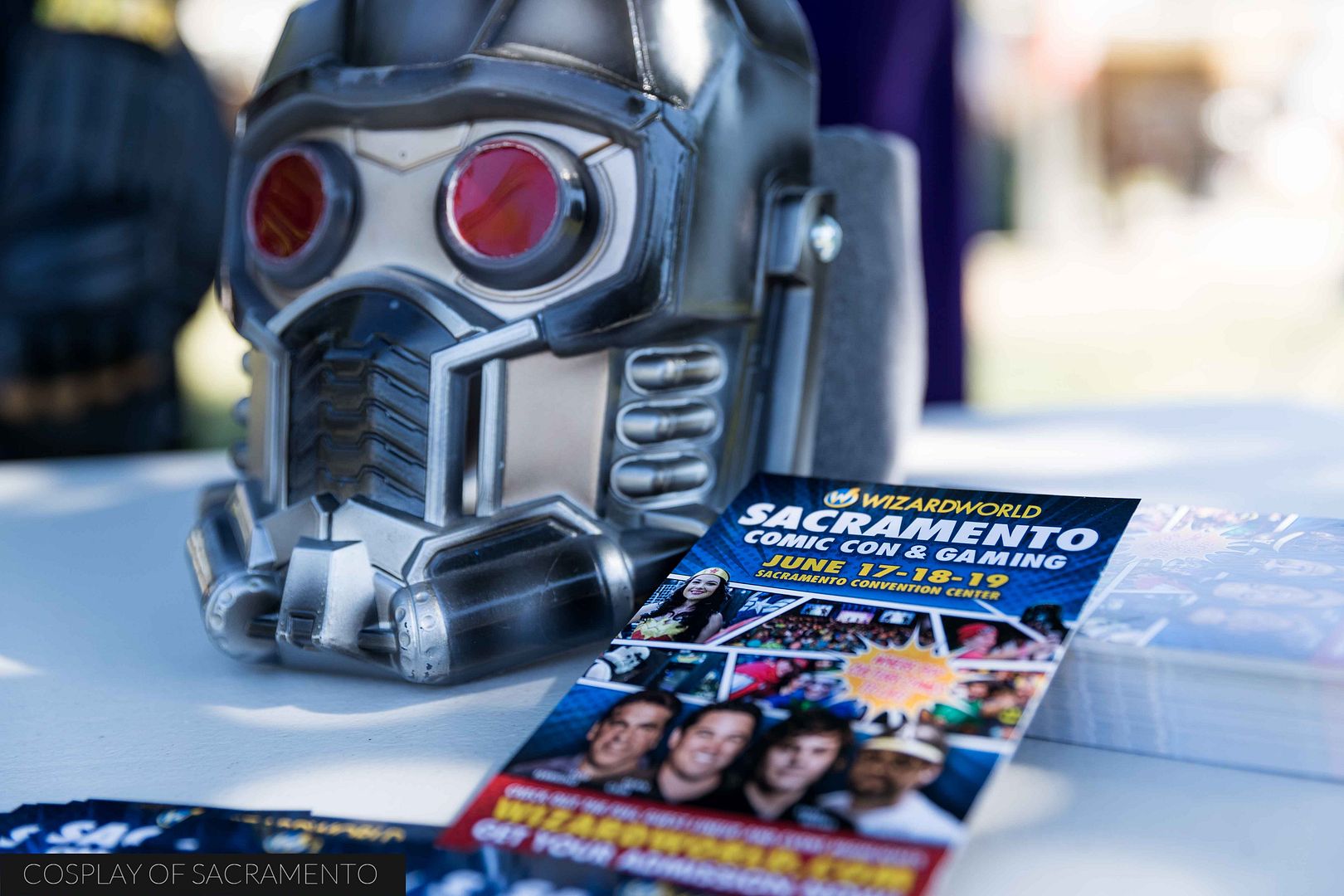 For those of you interested, Wizard World is happening this coming weekend - June 17 through the 19th. There will be a lot of events going on that weekend as well as the opportunity to meet some really big stars. Huge Hollywood names like William Shatner, Sebastian Stan, Evan Peters, and Hayley Atwell are scheduled to be in attendance. It should be a ton of fun! For more information about the event, check out their main page
HERE
.
I have to give a HUGE shoutout to Amanda, the beautiful cosplayer who dressed as Black Widow. She took up the burden of organizing and coordinating the promotional events we went to this year. She single handedly went above and beyond to make sure people were gathered in order to make the promotions happen. Without her, there would be no Sacramento Wizard World promotion at all. She definitely deserves all the credit. And speaking of going above and beyond, she also was thoughtful enough to provide the cosplayers who came out cold water and snacks so that they were taken care of. Much love to Amanda! Find her at Icha Icha Cosplay on Facebook and Instagram. Give her a like if you haven't done so already.
Check out more photos of our time at the Gold Coast Adventure Faire in my gallery. Here's the link!