Author: Luke Cheng
Modesto-Con took place on July 9th and 10th at the Modesto Centre Plaza in the heart of Modesto, Ca. Sadly, I would only be able to check out the first day of the con as I had prior commitments already... but I was very excited to at least experience what this event had to offer! Modesto is an hour and a half drive away from Sacramento, but it's not a bad commute at all. Traffic was light and it was a beautiful day to make a little road trip. The venue was easy to locate once in town and was a pretty sizable place for a smaller town convention. There was a large area outside for con-goers to mingle and hang out (and enjoy FREE cotton candy), and the inside had a large areas for vendors and panels. I've got to say that the people who put this con together did a really nice job as everything was organized well. Kudos to them!
She wasn't going to go at first, but I was able to convince my beautiful wife to tag along with me for this con. She's new to the whole cosplay scene, but she's been getting more and more into it. One of her easiest cosplays to get together in a pinch is Jubilee. She went with that one today and was ready to hit the con floor! Of course we practically ran to every X-man we saw in order to get some photos. Here she is with a pretty bloodied up Wolverine. There weren't a ton of X-men in attendance, but we were fortunate enough to see both Phoenix and Colossus while we were there.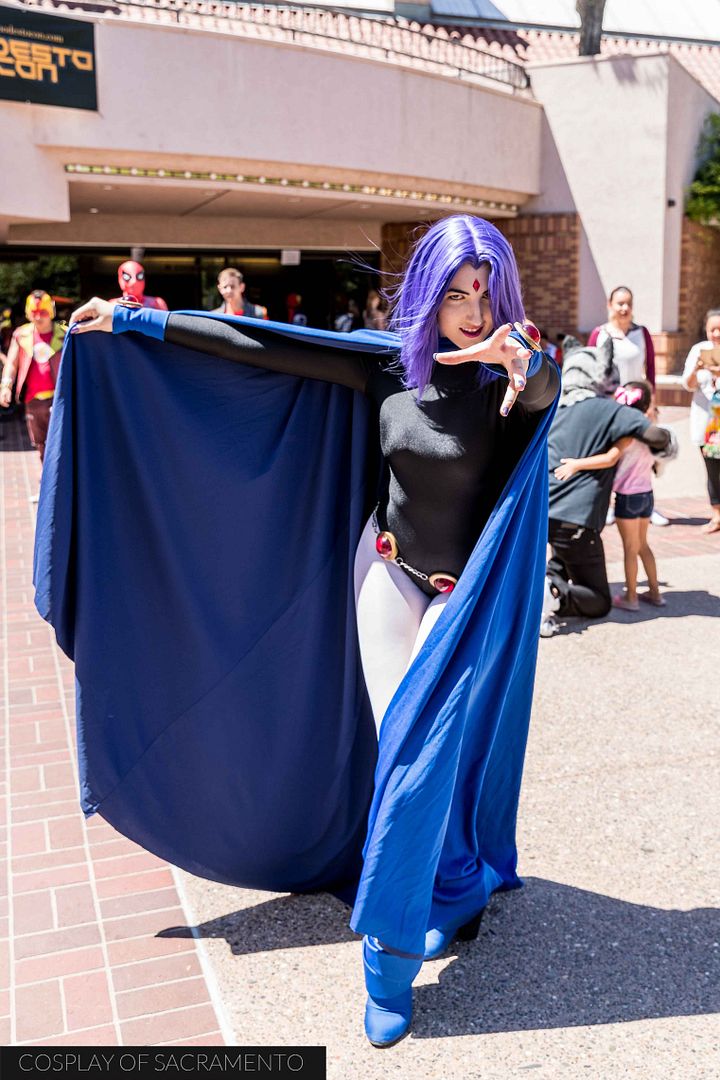 As I mentioned, there was a huge area just outside the main doors for everyone to hang out and get good photos. It can be hard to get great shots indoors because of poor lighting, but thankfully here at Modesto-con there was ample space to shoot photos of cosplayers in bright light. Also in this area were pools of water and trees to provide some shade. It was a really sweet set-up! One of my favorite posed shots from my time out was this one above of Raven. I didn't get a chance to do any solo/private shoots with anyone this time around so I was glad to get this one as she gave me this dynamic pose.
The main highlight of the con for me was the costume contest that took place near the end of the day. The costume contest is always an important part of any con, but this one was particularly fun as the cosplayers who participated really got into character as they went across the stage. The most intricate cosplay had to be this group of Orcs from the WarCraft universe. They were a group of four and they were dressed to the nines! Each part of their cosplay was extremely detailed... and that's not even mentioning their full orc make-up and prosthetics! These guys went all out and really amazed everyone with their stunning cosplay.
Kids and families got into the cosplay act quite a bit during the costume contest. There were many young kids with their parents in matching cosplay. There was certainly a lot of 'Awwwww' sounds when the really little ones came out in their costumes. We had kids dressed as Minions, Green Arrow, and this little guy above as Superman.
The group winners of Modesto-con were the Orcs of WarCraft, but the individual winner of the show as this young lady as Furiosa. Furiosa is the main female character in the recent Mad Max movie. This cosplayer had a very detailed costume including a sweet prosthetic arm. She came in totally in character as she walked down the stage during the costume contest. She looked great and played the character well - congrats to her for winning!
As with all cons, some of the best times are had just hanging out with friends. Here's a pic I took at a boba tea place just outside the main venue. Everyone here is just relaxing and refueling with food from an exciting day at the con.
For a full gallery of photos from Modesto-con, please
CLICK HERE
.
See my video of Modesto-con below as well!