Author: Luke Cheng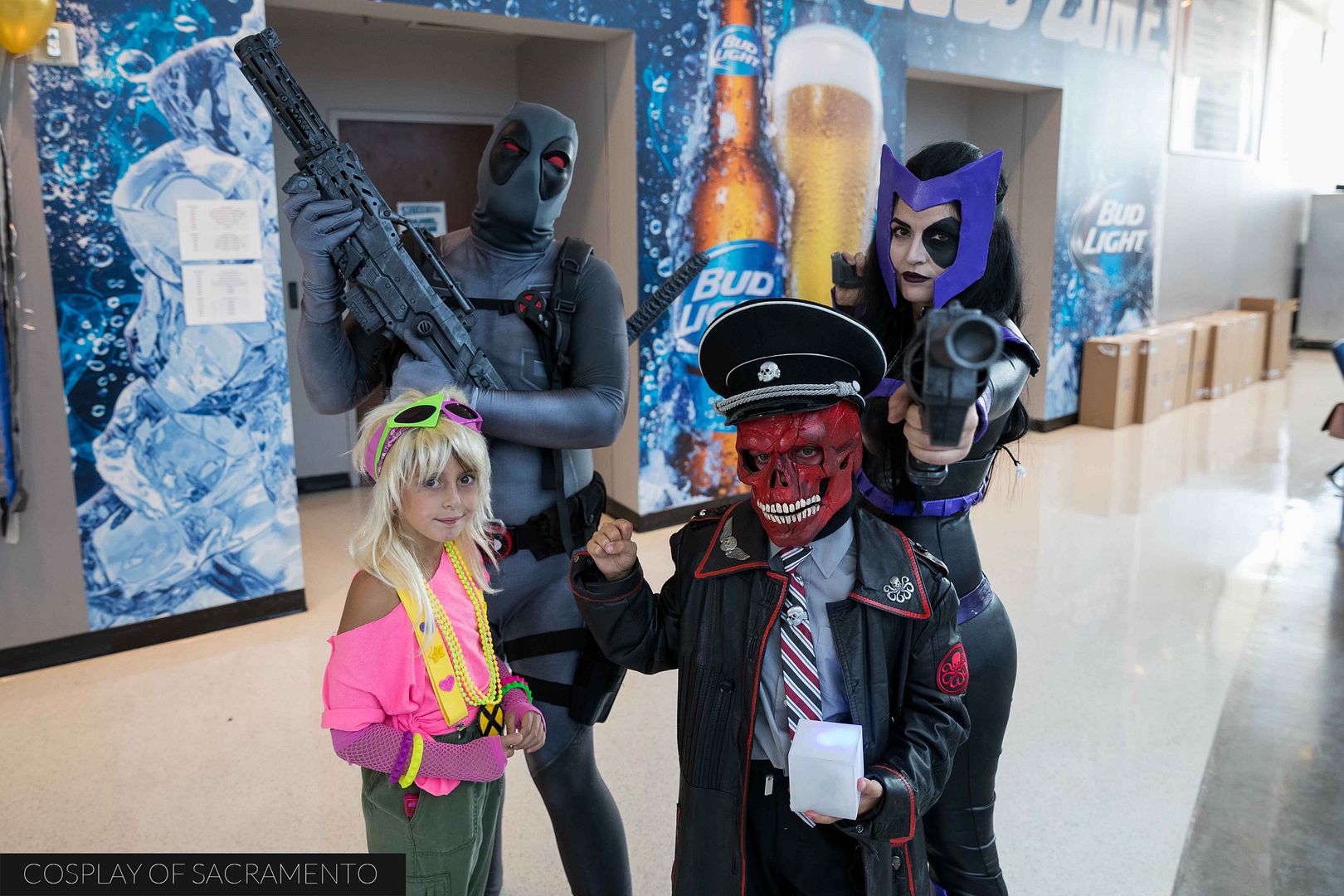 StocktonCon took place at the Stockton Arena this past weekend. Stockton is a city located about an hours drive from where I live in the Sacramento area, so getting there wasn't too difficult. Last year was my first experience at this event, and I must say that I really enjoyed it - so I was really looking forward to what would take place this time around.When I arrived the arena was bustling with people, and you could really feel the energetic vibe permeating from both outside and inside the building. People of all ages filled the concourse, and many of them were cosplaying. Entire families got into dressing up! Just check out the amazing family of four in the photo above - that is some amazing stuff going on right there!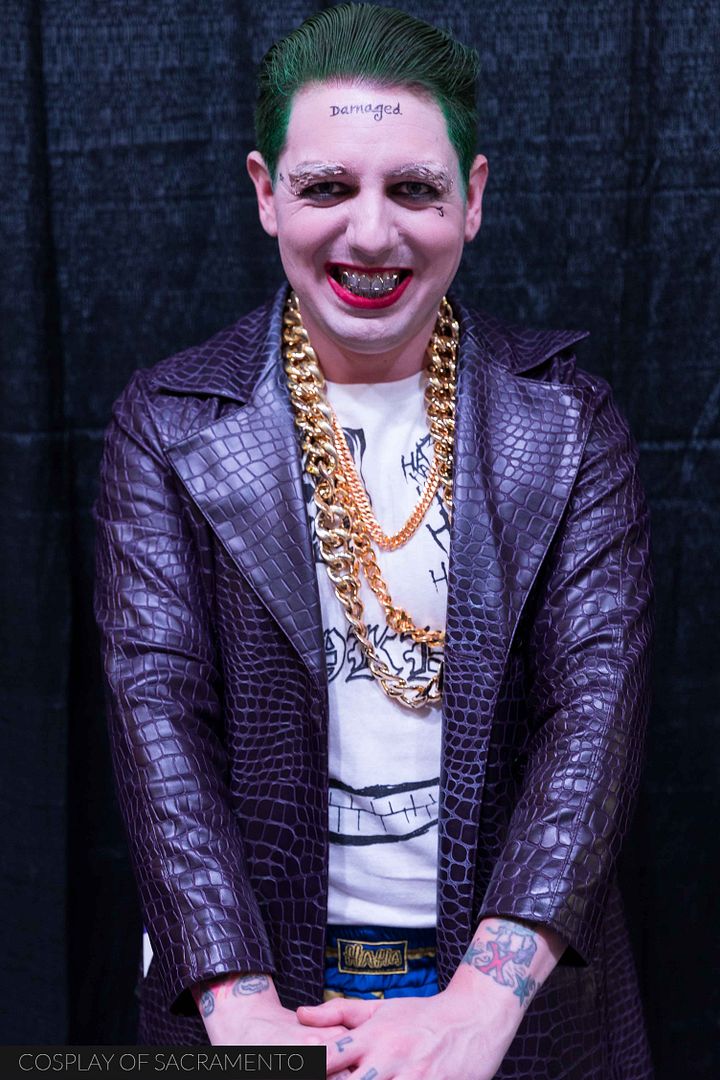 A good friend to many, Sean Long, had his own booth in the artists gallery located on the second level concourse. He brought his Suicide Squad inspired Joker cosplay for the first day. I love how StocktonCon celebrates local cosplayers as this part of the arena had cosplayers along the entire hallway. Visitors could take photos with the cosplayers as well as purchase special prints that were being sold.
Just outside the arena is a hotel... and I've gotta say that some shenanigans happened near the pool on this beautiful Saturday afternoon. A group of cosplayers got together for a Marvel swimsuit style photoshoot. Coming to the party was Tony Stark, Hawkeye, Jessica Jones, Spider-Man, Daredevil, Loki, and a pair of Black Widows. It was quite a group... and quite a site! It all started innocent enough, but as the shoot went on things go just a little bit crazier. All-in-all it was just a lot of fun and I was able to get some of what went down in some photos.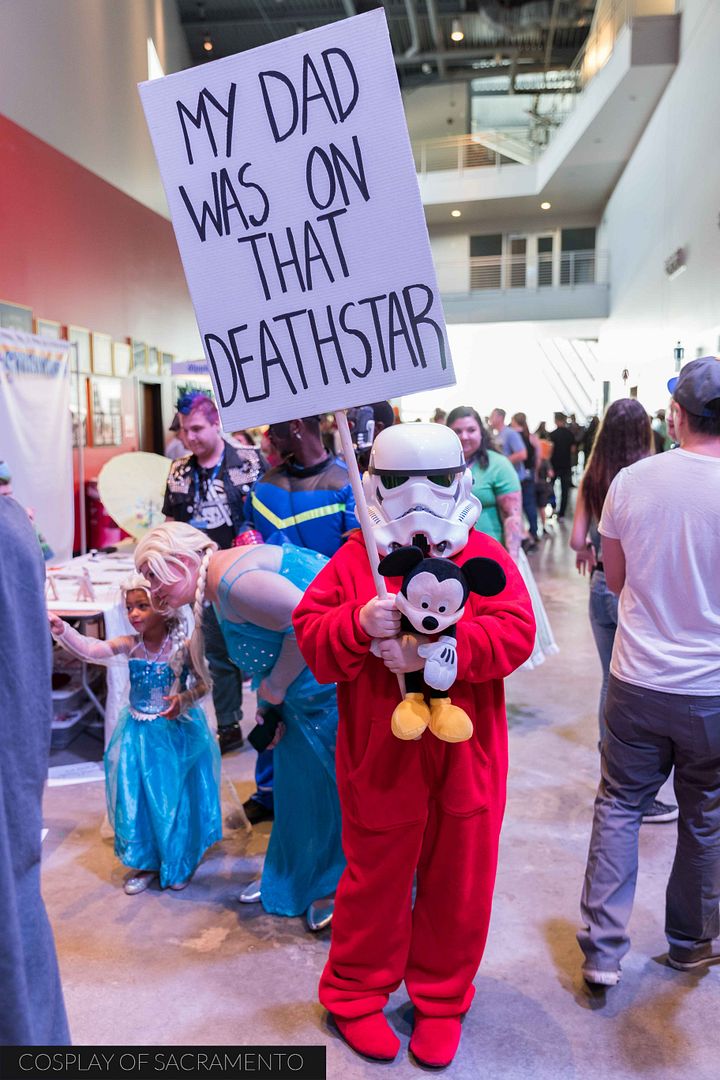 I love seeing creative and fun cosplays at every con, and StocktonCon had them in droves. I really liked the concept behind the sad Stormtrooper above who lost his dad on the Death Star. It's funny, cute, and a little bit unsettling... which combines for an awesome and unique cosplay. And this is an aspect of cosplay that I really enjoy - the ability to be creative. There are lots of ways to be creative in cosplay. Cosplayers can do something simple and fun, sexy and alluring, or dress in a movie-accurate costume. No matter what a cosplay is going for, it can be done so that it's great.
Speaking of great... how great is this Red Skull and Captain America cosplay??? These guys really went all out to make their cosplay something realistic. Both of these cosplayers represented their character extremely well. The detail in each outfit is outstanding and the materials used give a sense of realism. I definitely think both of these cosplays could have been considered best in show. Unfortunately, I didn't stay through the costume contest as I had to head back to Sacramento early, but these guys had to be right up there if they participated in the contest.
I was so happy to see Instagramer @shikabane_hime88 in her Night Crawler cosplay. I haven't seen her as Night Crawler since the Cosies happened earlier this year. It's an awesome looking cosplay and is one of my first memories of her. The perfectly done blue make-up and the classic suit combine for a perfect representation of the classic X-Men character. She's even got the hands correct! It's no wonder that she is one of the best cosplayers in the Northern California region.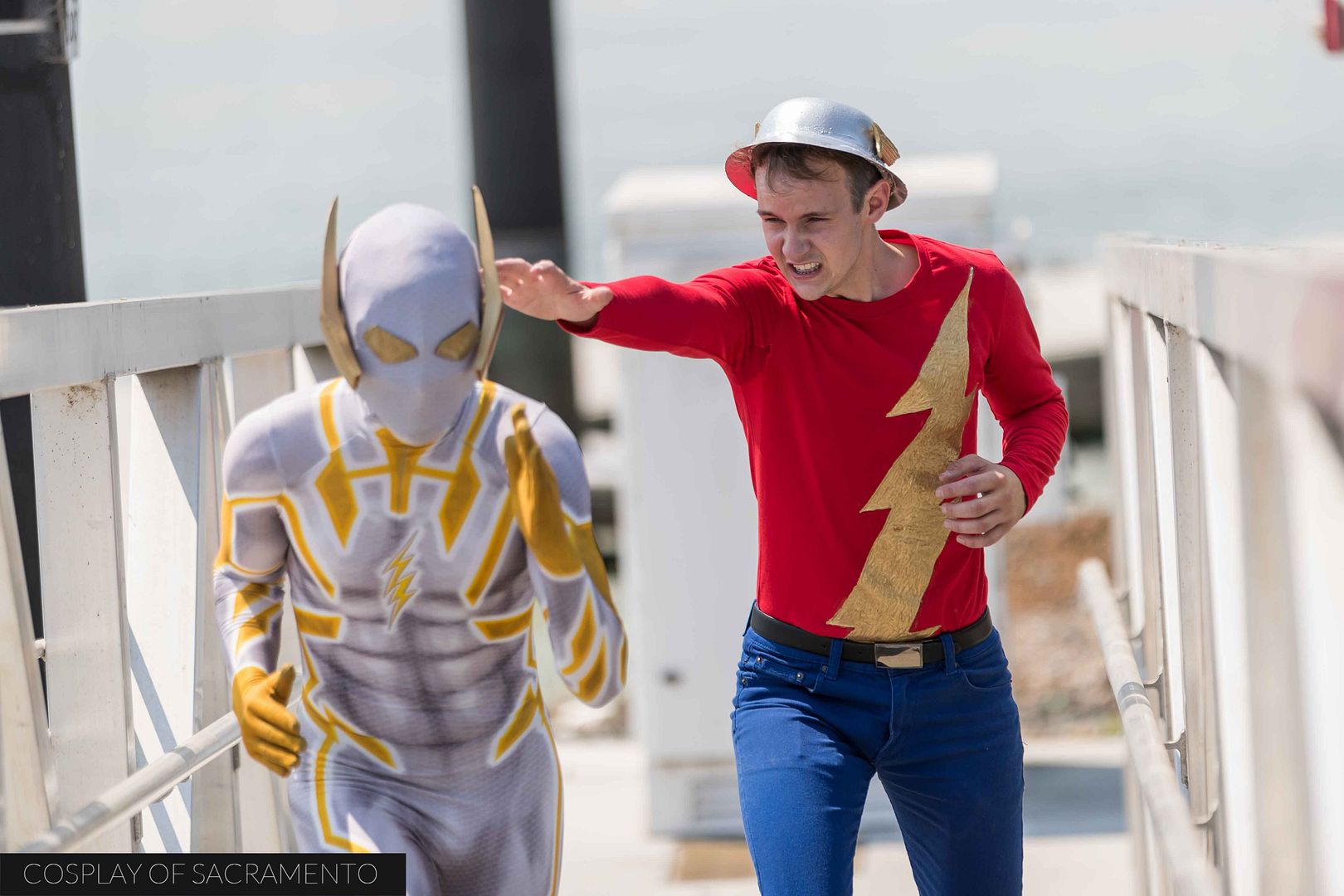 I got the chance to do a couple mini-shoots during the con. The first was on a public pier with Instagramers @deathstardorian and @joe.cosplay. Dorian was Godspeed while Joe donned the classic Flash outfit. It was pretty hot out there, but these guys were running up and down the ramp of the pier in order for me to get these shots. Thankfully, neither of them fell into the smelly green water that was right next to us... thought that would have made for quite the story to tell.
The other shoot that I was able to do was with @bigtrent07. This photoshoot came a bit later on in the day when the sun was a bit more hidden by the arena. We were able to shoot right next to the building . I was worried that it'd be too bright for good shots, but we actually ended up with some fabulous photos. Just like with Godspeed and Flash, I had Trent running and waving his cape around in order to get the most dynamic photos with movement.
In terms of panels and guests, StocktonCon was loaded. There was a huge guest line-up with Michael Dorn being the biggest (in my opinion) of them all. Dorn played Worf on Star Trek the Next Generation and Deep Space Nine. He's a legend among Trek fans. I had the chance to sit in on a little of his panel in the big ballroom and hear him speak. That was a great highlight for a lot of his fans in attendance!
The first day of StocktonCon went above expectations for me... and I was expecting a lot already! I had a tremendous amount of fun and am really glad I was able to experience all that this con had to offer on its first day. I will be back for day two and you can expect another posting about that experience soon! For now, check out a gallery of 100 photos from this day
HERE
.