Author: Luke Cheng
Today I got a chance to shoot with November Cosplay (Carla) in both her May Paker and Silk cosplays... talk about double the spider-themed fun! Carla came over to my place where I had set up a gray backdrop. I don't usually shoot with backdrops when it comes to cosplay photography, but whenever I've done it, the results have always been very pleasing. I think the grey backing in these photos worked very well with Carla's bright red and blue Spidey suit. She really pops nicely off of the background.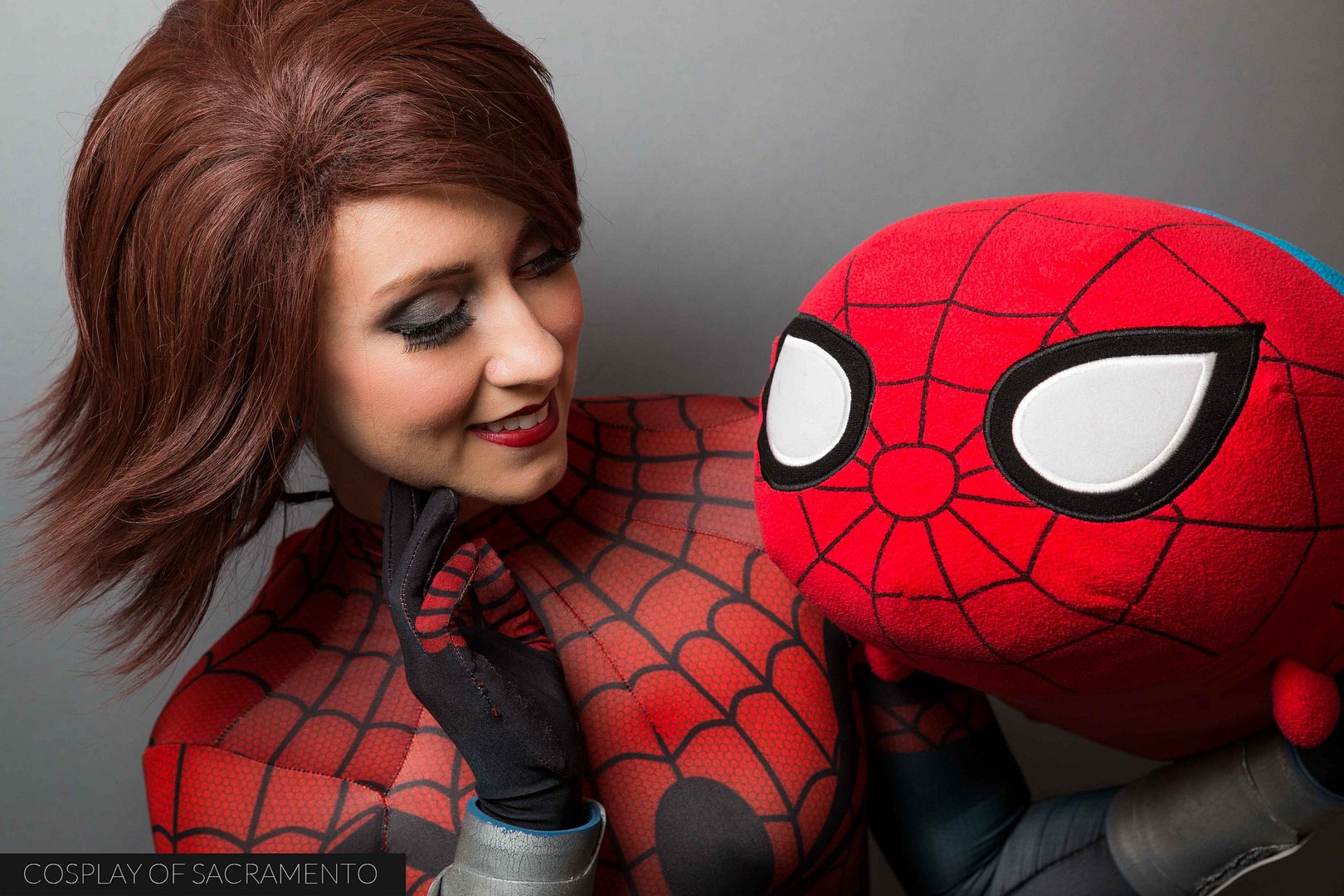 I had a large Spider-Man Tsum Tsum nearby and Carla went for it during a few of the poses we did. These pictures were super cute of Carla and my pill-shaped Spider-Man. I'm glad this Spidey was nearby as props definitely add greatly to cosplay shoots. In fact, these photos make me want to feature more of the Tsum Tsums and plush items I have lying about the house. Besides the large Spider-Man Tsum Tsum, I have the large Hulk, Chewbacca, and Jabba Tsum Tsums. A life-sized BB-8 push might also make for a fun inclusion in pics. Let me know if you're interested in doing a shoot with any of those!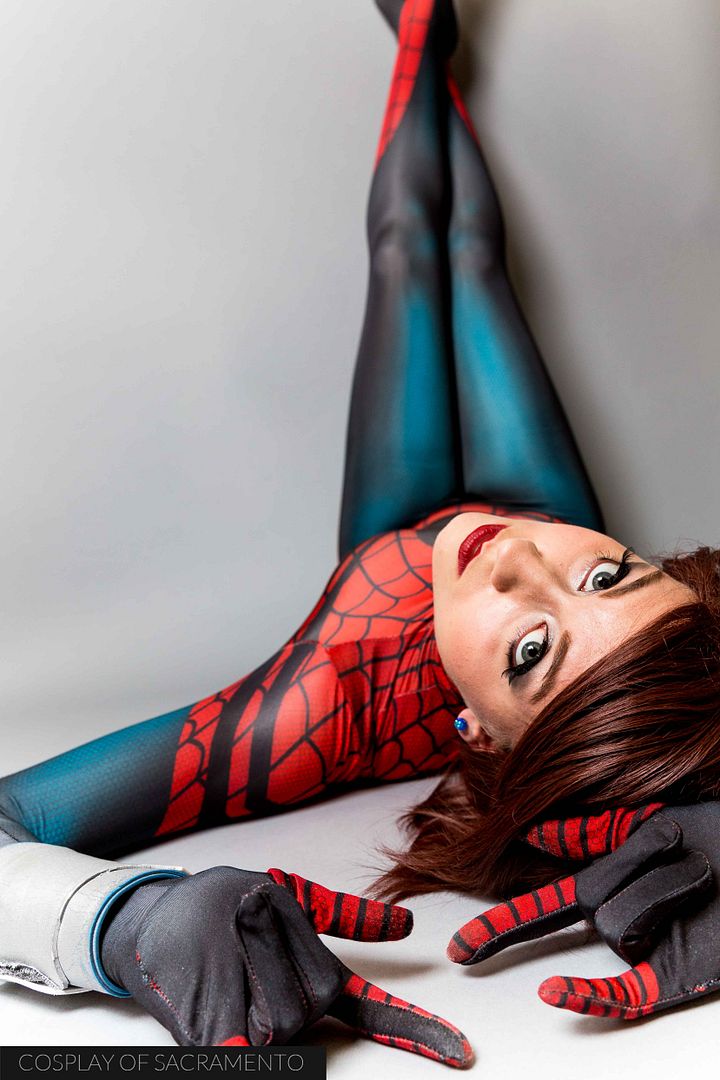 My gray backdrop isn't very large. In fact, it's really meant to just shoot one-person portraits. Carla was amazing, though, as she was able to get a number of dynamic poses using this backdrop. The most impressive pose during the day was this one shown above. It looks like Carla is propping her legs up and resting them on a gray wall... but there's actually nothing there but paper. She was holding the pose the entire time while I was fiddling with the camera trying to get the right angles for this shot. That's what I call a great model! I love the effort she put in towards getting great shots.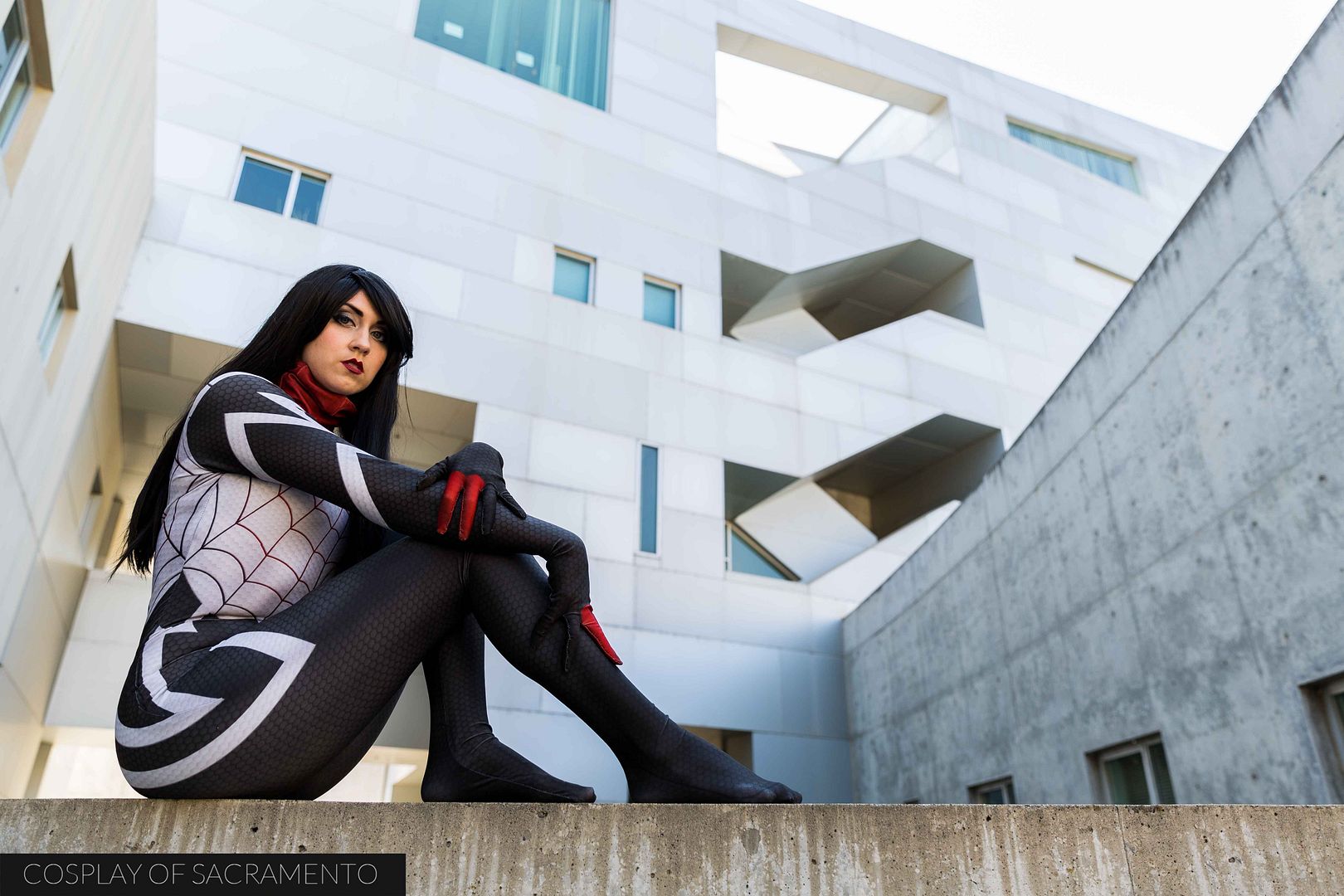 Speaking of putting in effort, this shot was a scary one to take! Well, at least for me. You can't tell from the photo, but Carla is sitting on a ledge that couldn't be more than a foot and a half wide. That's not a big deal except that on the other side of the ledge is a 50 ft drop! Carla has tremendous balance and confidence whereas I was afraid for her the entire time! This was one of my favorite shots though as the background is really unique! You get the feel of a modern urban environment even though we were anywhere but a big city.
We actually shot around the UC Davis campus for Carla's Silk cosplay. UC Davis has a variety of great architecture to use. As long as you shoot the right angles and in the right places, you can pull off somewhat of a city environment. It was important for me to get this feel for this particular cosplay as much of the Spider-Man fiction is in New York.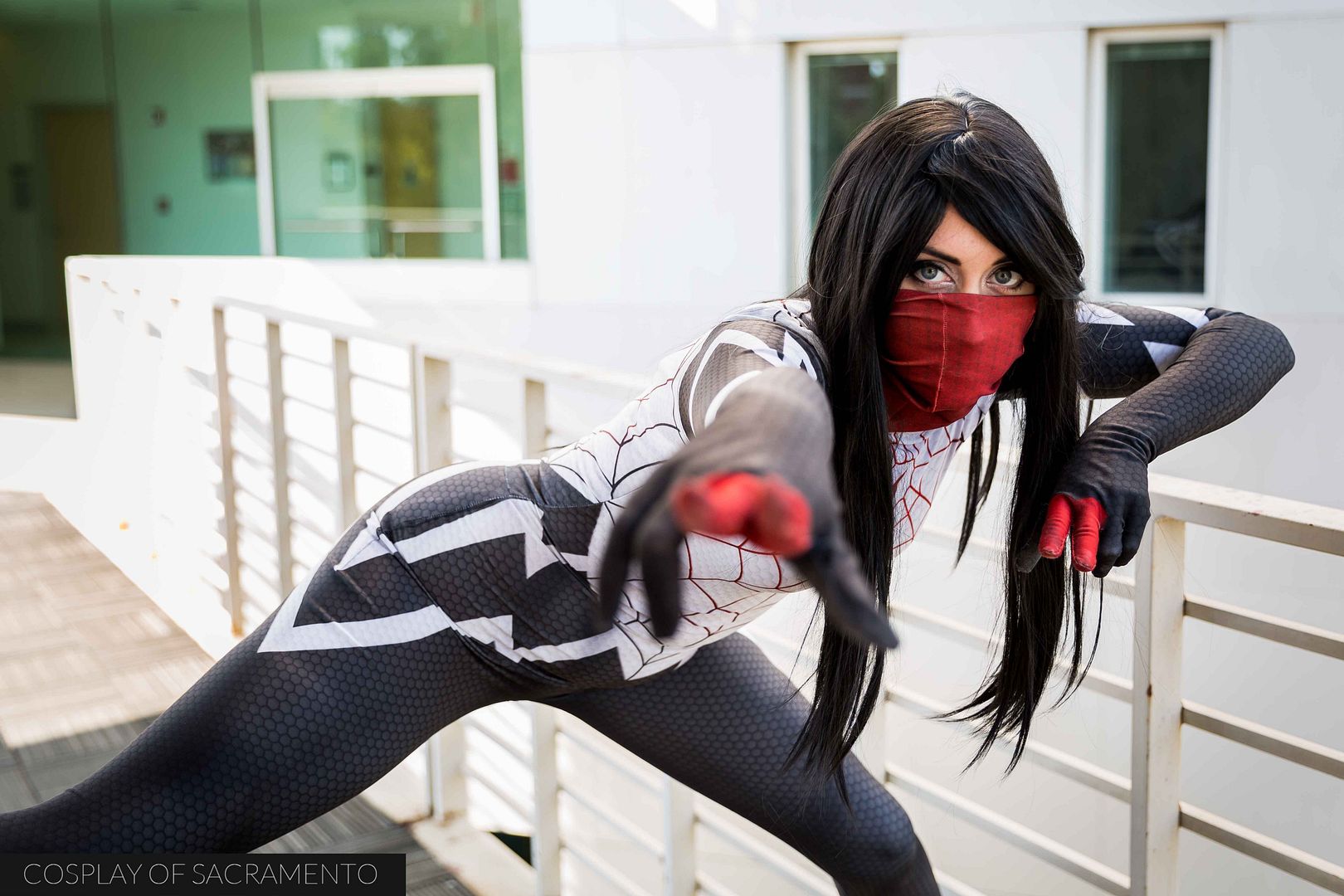 It was an absolute blast shooting with Carla today. As a photographer, I enjoyed getting to use a more studio environment as well as going outdoors and getting pictures outside. If you haven't followed Carla on Instagam yet, check her out at @novembercosplay. She's definitely worth following. If you'd like to see all the photos from my shoot with Carla,
CLICK HERE
to go to the gallery on my main site.