Author: Luke Cheng
Back to SacAnime for day two!!! Jenn and I were really looking forward to this day because she was debuting a new cosplay - Sinon from Sword Art Online. It took her a long time to get this cosplay pieced together, so it was exciting to see her get to show it off at the con. I love this pic we took when we first got to SacAnime because Justin from Nerd Gazette decided to photobomb the shot. That guy is a funny dude and takes some fantastic photos for his website and various social media outlets.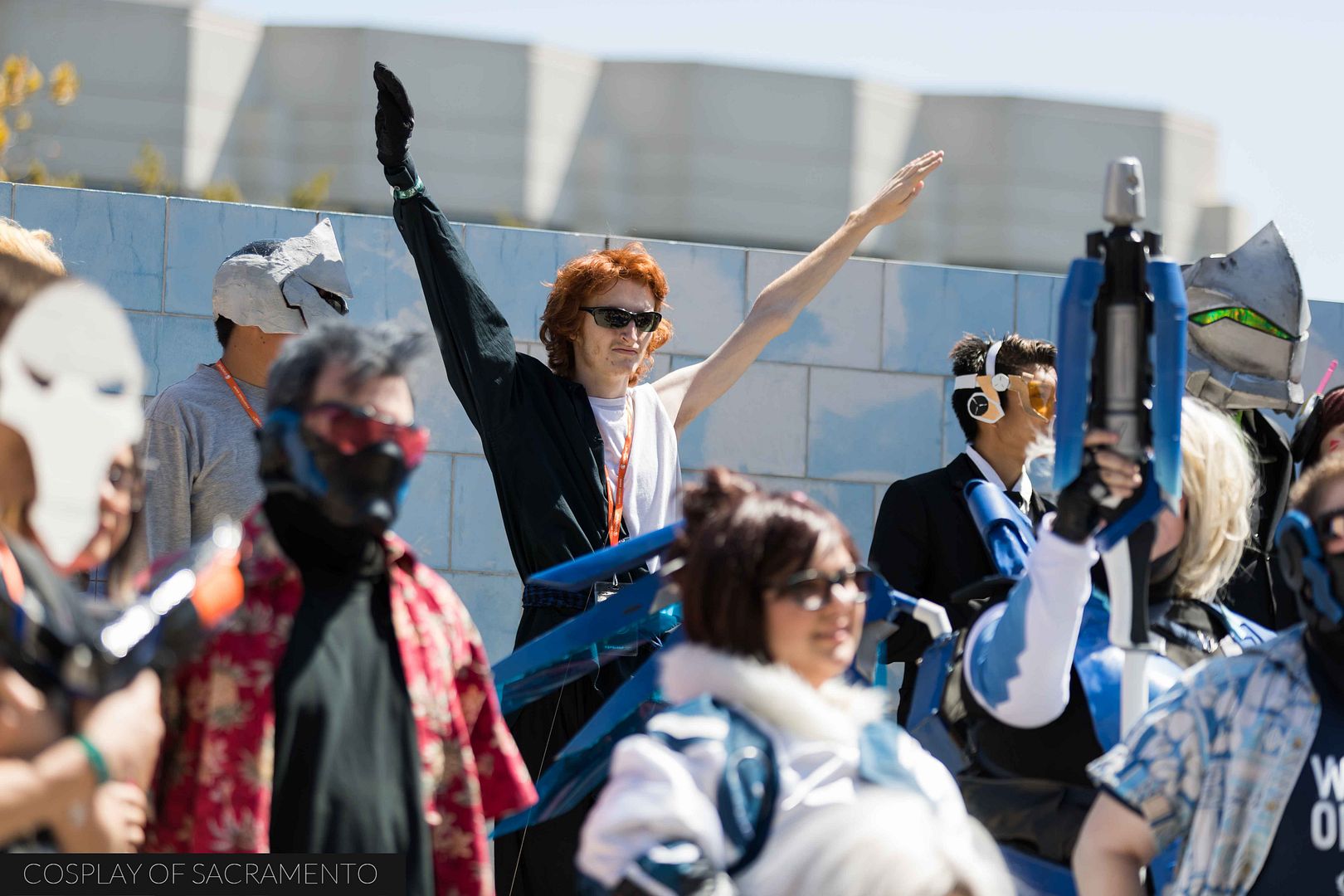 The main balcony and terrace area is where the big group cosplay gatherings are held. The big groups have scheduled times to come and do a meet-up. It's impossible to catch every meet-up, but I tried to stop by every so often to see who's getting together. This time around I got the opportunity to see the Overwatch cosplayers get their photos taken. Overwatch is an extremely popular game and the characters in it are very popular to cosplay as. Lots of great Overwatch cosplay was on display today!
Ummmm WHOA!!! It's Mileena... and such an amazing version of her! This Mileena cosplay was probably one of my favorites of the entire day. Mileena is one of those Mortal Kombat characters that everyone just loves, including me! The teeth she had showing on her face were great, so I wanted to highlight them on the blog. I do have a photo showing more of her cosplay in my gallery. You can find a link to it at the end of this blog posting. I don't know who this cosplayer is, but if you do, let me know. I'd love to give her credit for her Mileena cosplay!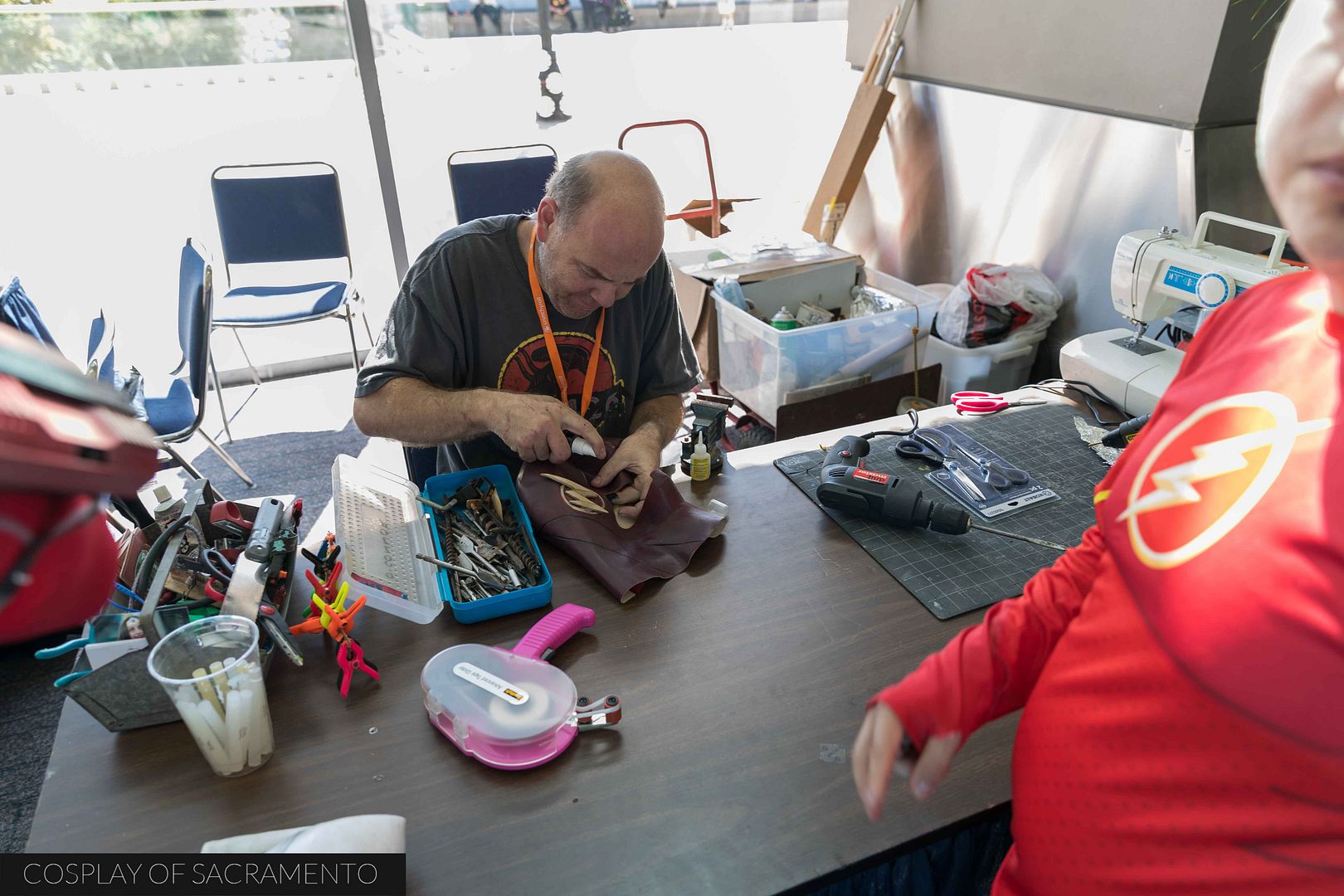 Sometimes cosplays can break down or have issues at cons - and it sucks. Thankfully, SacAnime had a fully stocked repair station on the second floor to assist cosplayers who needed to have something fixed. As you can see, there are a lot of tools, a sewing machine... and a drill?!?! Yep! Everything you could ever need to get your cosplay back up and running in a jiffy. Big shout out to the guys working up there and helping out, they rock!
Definitely one of the big highlights of the con was the Geek Fashion Show. This year the show took place in one of the really large rooms at the convention center. The models took to the stage in front of a very sizable audience. The music was pumping and all the models did their thing as they showed off some amazing geek-inspired clothing - some really unique pieces were on display. I also love that the Geek Fashion Show is all-inclusive and features beauty in all its varying types with their models. Much appreciation to Douggary and crew for putting this all together.
I had the opportunity to do three proper shoots on Saturday, and all three were a ton of fun. The photo above is of @pachanket on Instagram. It was so good to reconnect with her again. We had actually did a couple photoshoots last year, and I hadn't seen her in a while. Getting back together to shoot was amazing. I am always impressed with her cosplay and the props she hand makes herself. She is a stunning cosplayer and is a true master of her craft. If you're not following her on Instagram yet, go find her and hit that follow button!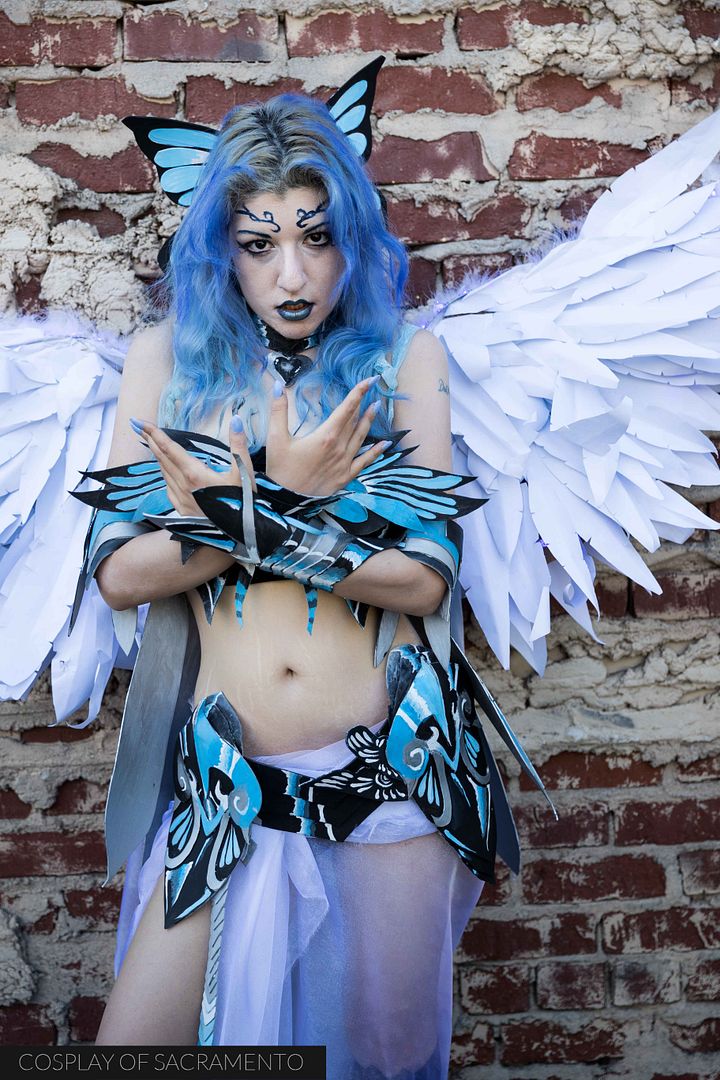 I just met @blue.angelic on Instagram recently, but I'm always extremely glad to meet new cosplayers and do shoots! Like Pachanket, she hand made her cosplay. It may be hard to tell from the photo, but her angel's wings were all made of paper that she had cut out. It was really stunning. As we went to do out shoot, many people were giving her some well-deserved compliments. Blue.angelic was fantastic to work with and modeled some hot looks. She got that blue steel down fo' sho'!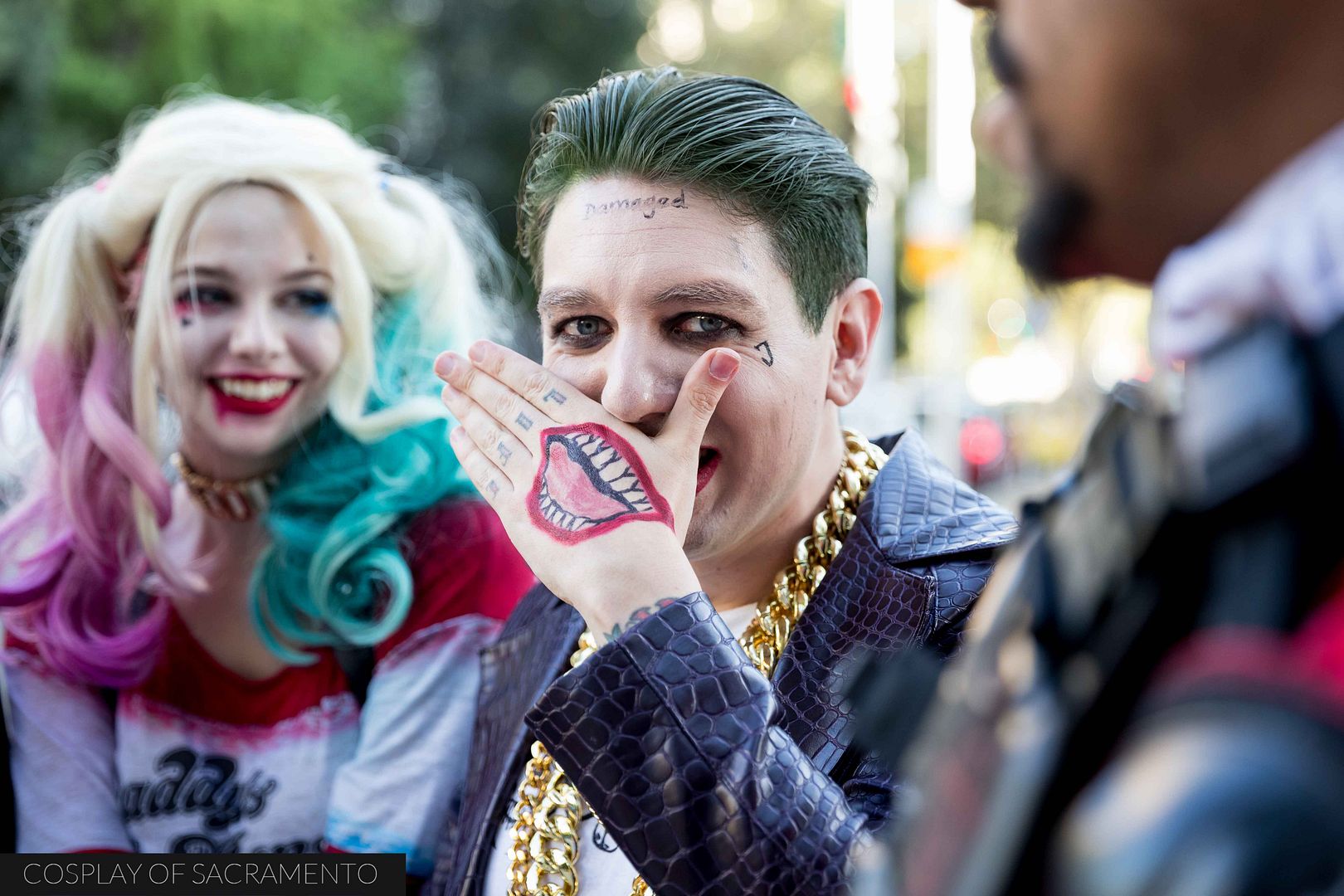 My final shoot of the day was with some of my favorite Sacramento area cosplayers. Sean Long, Trent, Jay and crew got the Suicide Squad together for some DC action. I wanted to get some candids of them just interacting and was able to pull this little gem of a photo from that first little bit. For more from this shoot and also from the entire day, check out my gallery by
CLICKING HERE
.