Author: Luke Cheng
Today I returned to the McClellan Conference Center in Sacramento for Sac-Con! Sac-Con has been held at this location for a while now, so I'm used to coming here for the convention. It's a large facility that provides ample space for a con or other large event - and it's the perfect size for Sac-Con. Sac-Con is a medium sized event that has a relaxed vibe which makes it really enjoyable. There is a sizable amount of people who come out, but it is not an overwhelming experience as some other cons may be. It's definitely one of my favorite cosplay/comic events that I attend.
As always, the people of the Sacramento area came out with some great cosplay. One of my favorites of the con was this Black Panther and Storm duo. I've seen this pair before, and they always come with their A-game. Just check out the amazing detail in both of their cosplays. They are truly incredible. There were lots of people cosplaying today and I had a ton of fun taking pictures on the show floor this afternoon.
This gender-bend cosplay duo took me by surprise. I'm not sure if I've seen Gambit and Rogue ever done this way before personally. Both of the cosplays look just as they should. Gender-bends are always great to see when done well, and this particular gender-bend cosplay is absolutely great. Doing things like this is very creative in my opinion and I love capturing these ideas as much as possible through photography and this blog.
The vendor hall was full of merchants and artists. This particular vendor caught my attention because she was creating items to sell right at her table. There are a number of merchants and artists who create and sell their unique items at Sac-Con. It's worth it just to come to the vendor hall and check out all the one-of-a-kind things that you can buy. Besides items like these, convention goers will find local comic book creators, artists, and writers in the main hall. Don't miss any of them when you come to Sac-Con!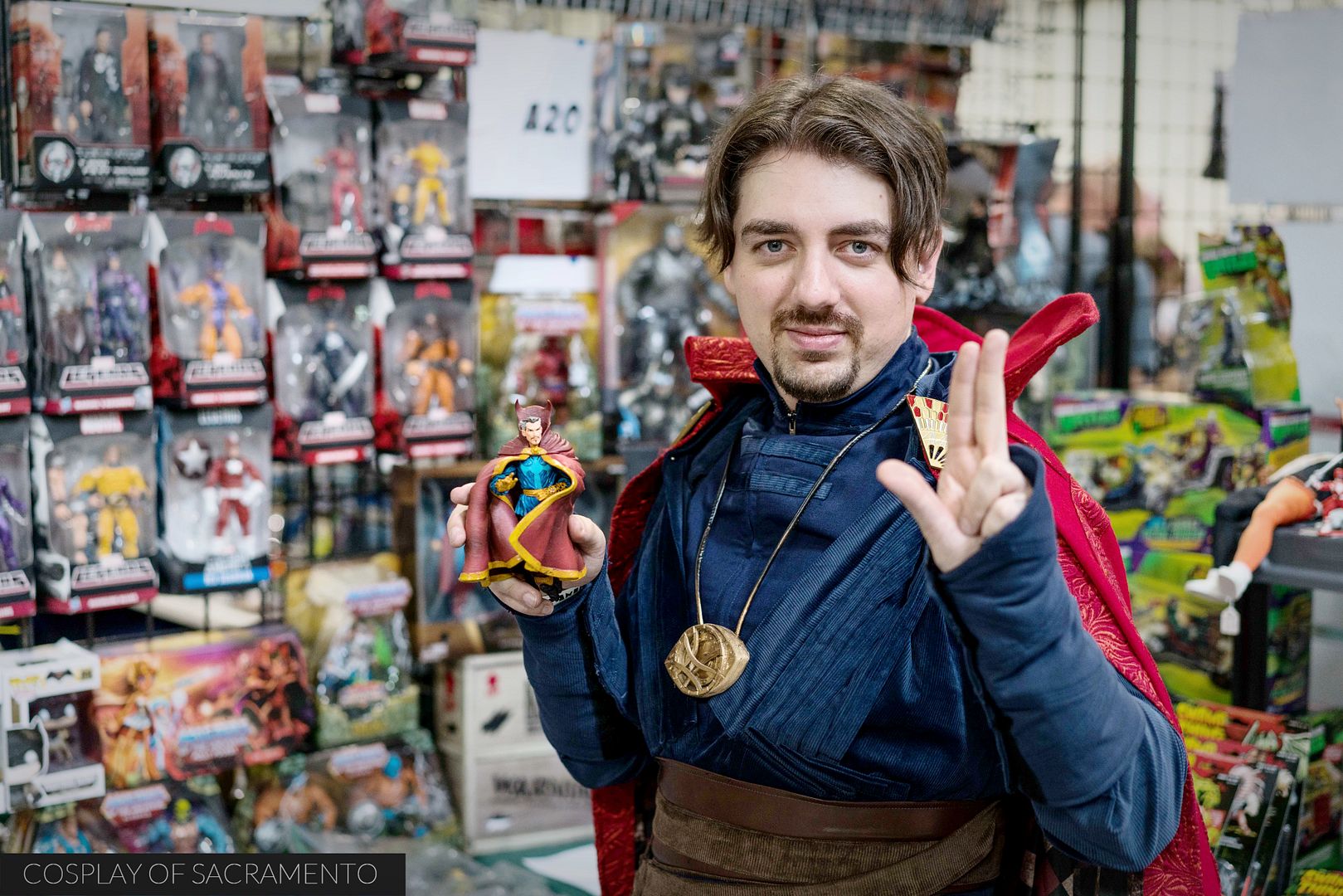 Of course if you're into collectibles, Sac-Con has probably got something you want. I personally love toys and figures... and Sac-Con has these items in droves! I have to try really hard to resist spending all my money when I come to events like these. There's just too much good stuff. Items for sale include comic books, video games, and posters amongst other things. Many of the dealers at the con offer good deals on hard-to-find items. You'll see plenty of sale items and items that have been reduced by large percentages. Take your time and comb through the merchant tables for the absolute best prices.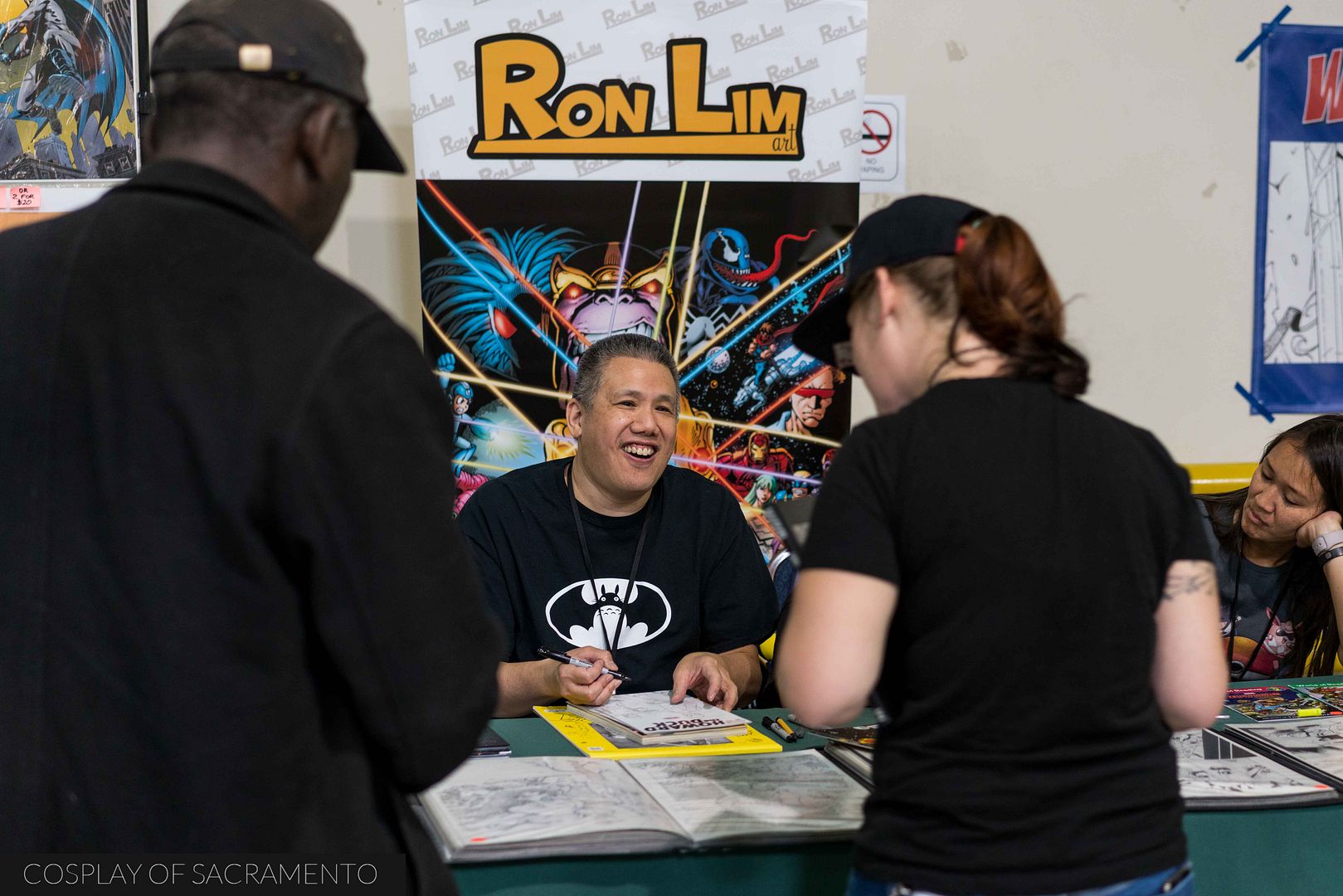 Though Sac-Con may not be considered one of the larger cons that happen, it doesn't mean there aren't some great names that come as guests. The entire back wall of the main hall was reserved for honored guests of the convention. Comic greats such as Ron Lim pictured above were in attendance signing autographs for fans. I fondly remember his work with Marvel when comic books were at their heyday in the 90's. There were many fans who came out to meet Mr. Lim and interact with him. Other guests today included David Yost (Power Rangers), Vincent Ward (The Walking Dead), and Scott Koblish (Marvel Comics) amongst many others.
Wanna break from all the con-activities? Sac-Con has a game room full of different video game consoles to play. Yes, there are modern era consoles there, but what I really love are the retro gaming systems. Check out this old Sega Saturn! The Saturn was a very nice system, but it really flopped hard in the United States. I actually had one of these and played Virtua Fighter with my friends after school back in the day. I was really tempted to just put my camera down and spend a good chunk of time in the gaming room... ahhh... but duty called! Had to get back to covering the con!
Hungry? Well, that's not a problem. The McClellan Conference Center is fully equipped with a cafe to meet your needs if you get hungry. There are drinks and sandwiches that you can order, and you can relax at a table inside or on a patio. It's actually a very nice set-up to have since the conference center is located in a spot that is a bit away from restaurants and places to get food. Besides the cafe, there was also a section in the con near the patio that also served up food. Sac-Con has your hunger needs covered!
As with all cons, my favorite thing to do is take photographs. Just outside the vendor hall is a loading area that is a popular place for folks to go out and get some pics taken. I was able to do a couple of short shoots today - one with a Power Rangers group and the other with a Star Wars group. For a full gallery of photos from the day,
CLICK HERE
!