Author: Luke Cheng
On Saturday I was invited to shoot with the Cobra 1st Legion at the McClellan Air Museum in Sacramento. It's located near where Sac-Con is held, so I was familiar with the area. I was excited for this shoot because I knew we'd get the chance to shoot around some awesome aircraft located on site. Both GI Joe and Cobra cosplayers turned out for this awesome shoot opportunity.
As a kid, GI Joe was my number one favorite cartoon and toy line. It was above Transformers, Thundercats, and all the rest. I had a ton of GI Joe figures that I played with all the time. It was a total obsession for me. It's sad to me that GI Joe isn't as popular as it was in the 80's. There is such a rich history with the franchise and a ton of interesting and unique characters. I'm just glad that there is a group here in Sacramento that loves the franchise and cosplays it!
I was impressed with the 'Joe cosplay that came out to the air museum. The attention to detail was really impressive. Both popular characters and lesser known characters were on site. The photo above is of Major Blood. Major Blood was a regular character on the show, but I'm pretty sure not many know of him. I loved all the dog tags that were worn with the cosplay. It was true to Major Blood's to figuring and was a sweet detail that stood out to me.
Cobra always had the really awesome looks to me. They had a futuristic vibe that was very Imperial in nature. I'm sure they'd happily join forces with the Empire from Star Wars given the opportunity. The vast majority of Cobra is made up of soldiers called Vipers. Just like Stormtroopers, there's a Viper for pretty much everything. In the photo above there are two Vipers on the outside with the Baroness, Cobra Commander, and Major Blood in the middle.
The 'Joes had an infantry unit soldier, but they the show was really focused on the huge and diverse GI Joe specialists. Many of the Joe team wore green camo, but there were standouts (like the ninjas) that had a completely different look. The 'Joes really remind me of the Rebels in the original Star Wars trilogy. Since I'm a big Star Wars fan as well, it's no wonder I also latched on to GI Joe so much... or was it vice versa!?!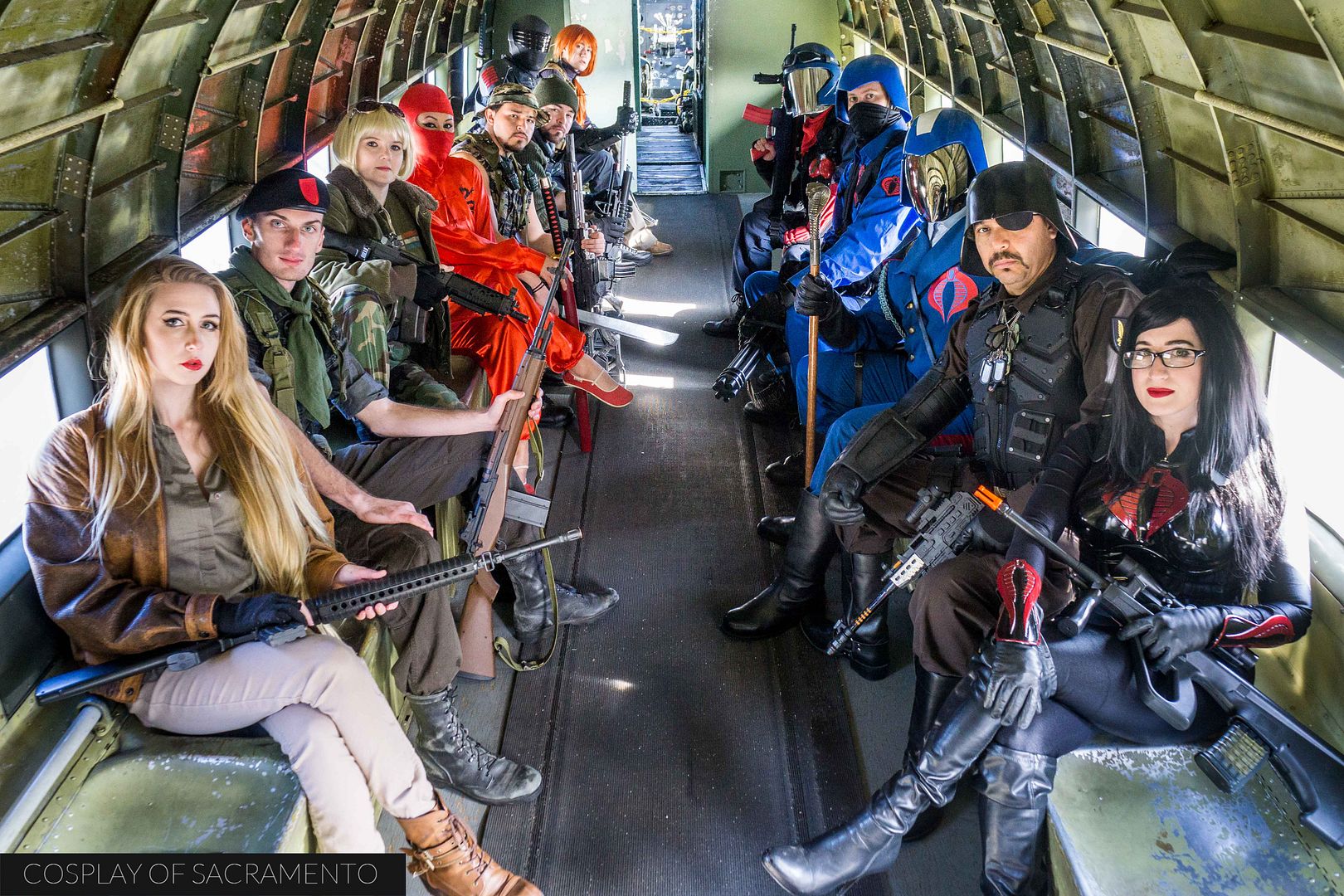 What was really cool was when we had the chance to go inside of the planes and check them out. These amazing machines were incredible to be inside, and I relished the opportunity to be inside them. Some of my favorite shots from the photoshoot were the ones taken from the inside of a plane. Gotta love how everyone, both Joe and Cobra, are getting alone nicely in this pic.
When there's GI Joe cosplay there has to be someone cosplaying the Baroness. OMG. I had a HUGE crush on the Baroness as a kid. It's just something about how bad she was! Oh the memories! Anyways, I just had to get as many photos of the Baroness that I could during this shoot. The cosplay was truly spectacular, especially the fiberglass chest piece. That thing was legit!
All in all I had a huge amount of fun shooting with the Cobra 1st Legion - those peeps are really sweet and I hope to do more photos with them in the near future. A special thanks to Daren (our Cobra Commander today) for inviting me out. It's all about the people you know! And I also want to mention that it was a lot of fun shooting alongside Annette and Perry - both amazing photogs as well. I'm sure you'll see some great photos coming from them really soon. If you'd like to check out my pics from today,
CLICK HERE
.