Author: Luke Cheng
Here we go! It's day two of Winter SacAnime! I was afraid that we'd be in the middle of a storm, but apparently the worst of it won't hit until tomorrow. Thankfully those who came out just had to deal with a little wind and some light showers. It wasn't too bad, and it certainly didn't stop all the SacAnimanics from enjoying the con. I was really pleased to see a good turnout and enthusiastic anime fans throughout the day.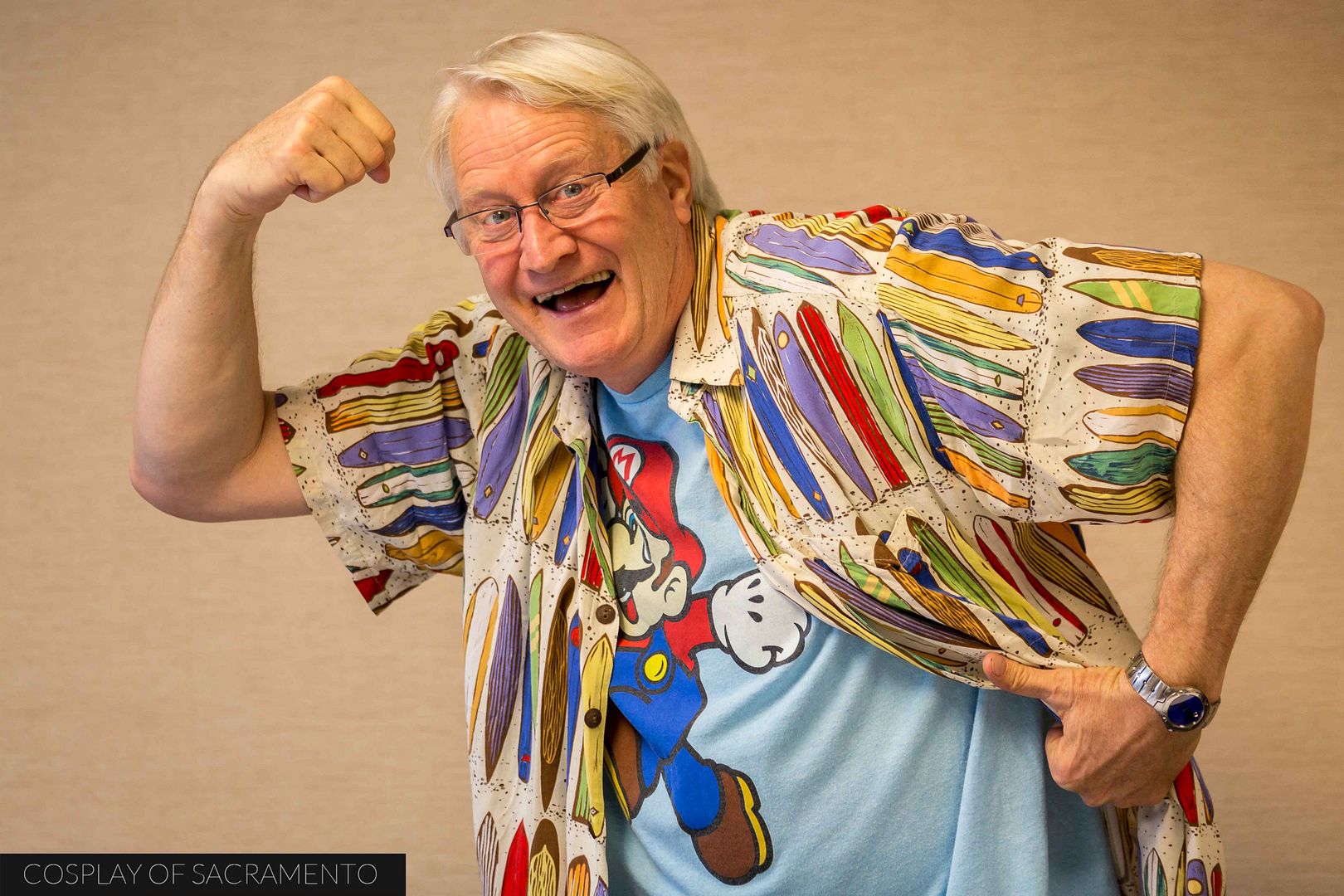 The start of my day was actually sitting in on a special presser with Charles Martinet and Michelle Ruff. Charles Martinet is the voice of Mario, and Michelle has done many voices for popular animated series. It's actually the first time I've gone to one of these special press events so this was a new experience for me. Both Charles and Michelle were extremely sociable and were a joy to talk with and listen to. It was awesome being able to ask them both questions - just like how you see the press do it on TV!
Both Charles and Michelle expressed how much they love coming to Sacramento and SacAnime. I was great to hear the positive experiences they've had in our city and how much they enjoy it. Before they took off for their panels today we got the chance to snap a photo of the both of them doing the Mario pose. Hopefully fans of theirs were able to see them in a panel today or meet them at an autograph session. Both are so friendly and fun to be around.
After the presser I went straight to the vendor hall to check out what was going on. It was a lot like yesterday... just multiplied by three or four. The hall was filled with fans visiting dealer booths and purchasing things. Though there were many people in the room, congestion wasn't bad because of the spacing between the rows of tables. That's one thing I really appreciate at SacAnime! There is always a good amount of space so that you feel comfortable walking around, even for those who have large cosplays on. Props to whoever did the floor plan!
It's Steve! OMG! It was so great to see Steve at SacAnime. If you don't know, Steve is one of the most beloved cosplayers in Sacramento. He is kind and genuine to everybody. A few months ago he had do undergo a medical procedure and has been recovering ever since. I was really overjoyed to see him back at the con looking like the spitting image of Jack Sparrow. Steve, if you're reading this, I want you to know how happy it made me to see you! Keep getting better!
It was time to head upstairs and see what was going on in the upper level of the convention center. Because of the rain, most of the the con goers were inside, but a few braved the wet rain and did some shoots on the terrace. Just 24 hours ago this was the perfect place to get photos done. Ahhh, how the weather can change in just one day! Cosplay meet-ups that were to take place on the terrace were moved to inside locations. Many of the photographers who usually set up shop out here had some time to take pictures with their lighting equipment indoors until the room got too packed.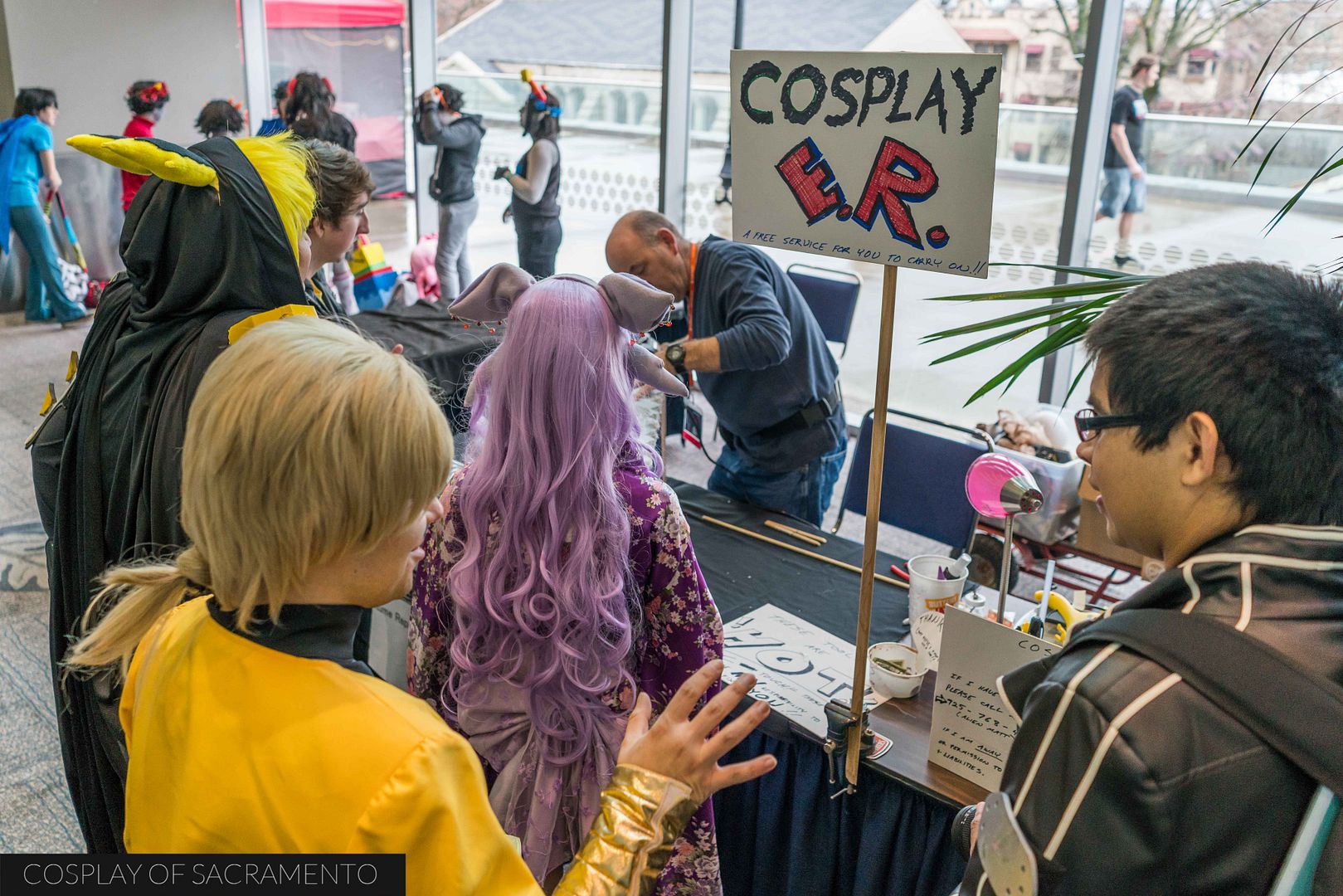 With all the people around, it is easy for an intricate or delicate cosplay to get bumped and damaged. Thankfully there was a cosplay ER on site to help fix any issue that was going on with costumes. I saw quite a few people take advantage of the cosplay ER's services during the day. I'm sure were able to make things right for many people who had some issue with cosplay. Big thanks to the folks here at this table! They totally saved the day!
One of the big events I was looking forward to today was the Geek Fashion Show. I try to catch it whenever it is held during a convention. The Geek Fashion Show is a ton of fun and features amazing geek-centric styles from creative designers. The show began with some great music to hype up the audience. Unexpectedly, however, the show was put on pause by the fire alarm going off just as the models were about to take the stage.
After a brief exit to the outside of the convention center, everything reset and the Geek Fashion Show was able to go on smoothly. I had a blast taking photos of all the ladies modeling the different clothing lines. All the girls who took the stage were great. Sometimes unexpected things happen (like that fire alarm), but it doesn't mean things have to turn out badly. The Geek Fashion Show was able to weather an unforeseen hitch and navigate past it with ease. I'd say this year's show turned out wonderfully for the audience in the end.
Today was a packed day of shooting photos and seeing all that SacAnime had to offer. I had a blast and enjoyed every minute of my experience. I ended the day in the free autograph hall with Jenn meeting Michelle Ruff. I was telling Michelle about Jenn's Sinon cosplay earlier in the day and she expressed interest in seeing it, so we had to pay her a visit. Michelle loved it and signed Jenn's sniper gun. It was a perfect way to end the day. I'll excited to return for the third and final day of SacAnime tomorrow!