Author: Luke Cheng
It's been a while since I've done a private shoot with Necikait, so I was really happy to get together for one this past Sunday. She had been working on a Harley Quinn cosplay and today was the debut of it. It was definitely an honor to be one of the first people to see it! Places to shoot were a little scarce that day, but we found a little area with a dirty garage door that I felt would work.
Necikait is an amazing cosplayer. She makes all of her cosplays herself. If you're interested in following her work, I would highly suggest watching her
Youtube channel
and following her on Instagram and Snapchat using her handle 'necikait'! She's always giving behind the scenes looks at what she's working on as well as the fun stuff she likes to do on a daily basis. Check out the amazing hammer she made - it was over 6 feet tall!
I wanted to change up the scenery a little bit so we took a short walk to a beautiful area in the greenbelt. It had a totally different feel than the dingy garage door so I asked Necikait to have more of a peaceful look at this location. And she delivered! The photos in the greenbelt were of a softer nature. I really like the photo above as it shows a more serene side of Harley.
Though being in nature isn't exactly the city environment that Harley Quinn is usually portrayed in, the greens are a great contrast to her costume. I love how she really stands out in the photograph here. Also, the light was really soft as the afternoon changed to early evening. It was a ton of fun shooting during this time.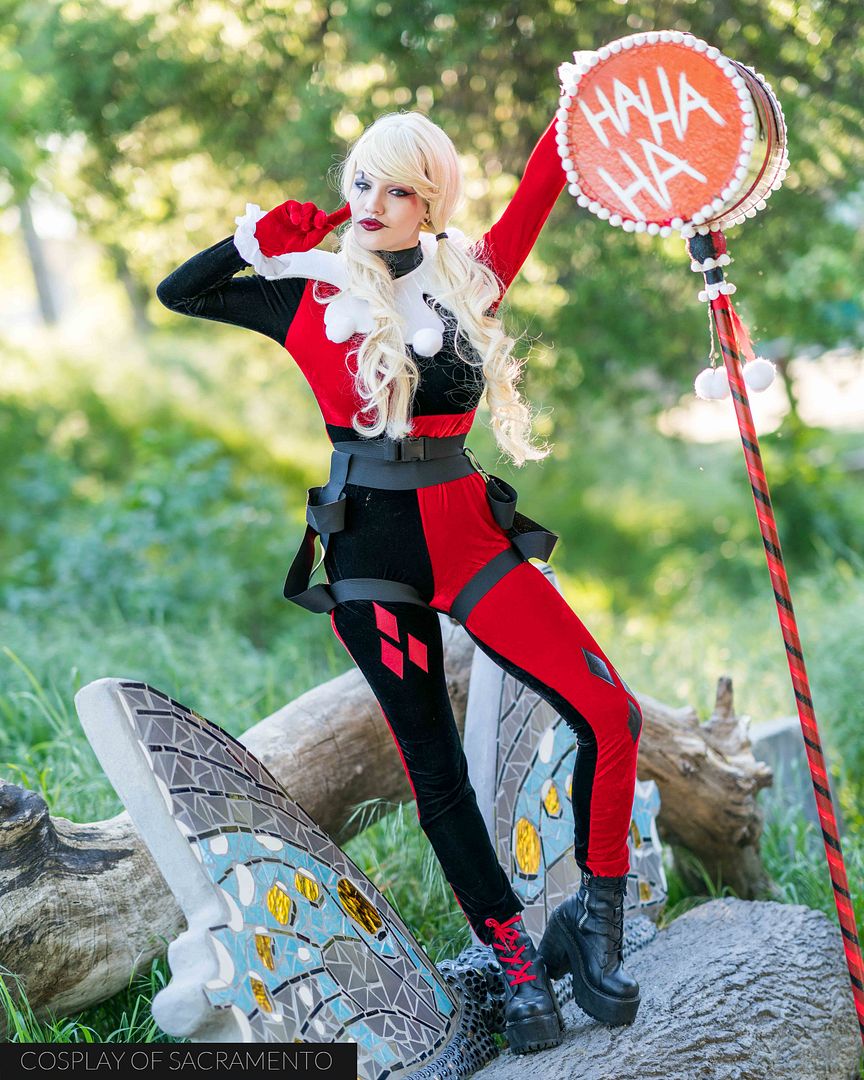 Being in Davis, there are a ton of strange things just all around the bike paths around town. I thought this butterfly bench was a bit silly, so I had Necikait get up on top of it and do some fun poses. I really appreciated that she had a bunch of poses ready to go. Necikait ran through multiple poses in each area that we shot in - she's definitely a pro! Check out all of our photos from this shoot by
CLICKING HERE
.
For the shoot I exclusively went with the Sony camera system. I shot with a Sony A7rii camera with either the 28mm 2.0, 55mm 1.8, or 85mm 1.4 prime lens attached. I typically shoot Canon, but it's hard to deny the amazing image quality that Sony cameras can put out. It worked pretty well, but to be honest with you I did struggle a little with the system. It wasn't quite there in terms of shooting speed and the camera locked up once during the shoot, which was pretty annoying. All in all though, I was able to get some images I really liked from it and will be going with this set-up again soon!